Free Shipping(3-5 business days via UPS)
30-Day Return
1-Year Limited Replacement Warranty
Specifications

BREEZE OF FRESH AIR Auto adjust with PM 2.5 sensor, Real-time air quality indicator with 4-color LED, 3 manual fan speed+turbo mode, Sleep mode, Pet lock button, Filter Replacement Indicator, captures 99.97% of pollutants as small as 0.1 microns, Bird aroma oil diffuser

PURIFIES rooms up to 714 ft2 (66 m2) in an hour; 357 ft2  (33 m2) in 30 minutes; 238 ft2  (22 m2) in 20 minutes; 179 ft2 (17 m2) in 15 minutes

ALLERGY-FRIENDLY Certified by ECARF. The European Centre for Allergy Research Foundation is a non-profit organization dedicated to reducing the harmful effects of allergies and supports research for allergic diseases and treatments

4 STAGE FILTRATION SYSTEM [ Pre-Filter (Washable) + CEPA* (Embossed H13 True HEPA filter) + Carbon filter (Deodorization) + UV LED (Sterilization) ]

ENHANCED H13 TRUE HEPA FILTER: Clair developed Embossed true H13 HEPA filter has more surface area for capturing pollutants than traditional HEPA by up to 13%. Activated carbon filter removes the unpleasant odors from pets, smoking and cooking. Washable pre-filter extends the life of the HEPA filter by capturing large pollutants such as pet hair and large dusts
Dimensions: 10.2 x 9.7 x 14 inches
Weight: 5.8 lbs
Input: AC100-240V, 50/60Hz
Output: DC 24V, 1.5A
Power Consumption: 1.9W~25W
Manufacturer: Clair, Inc.
MADE IN KOREA
---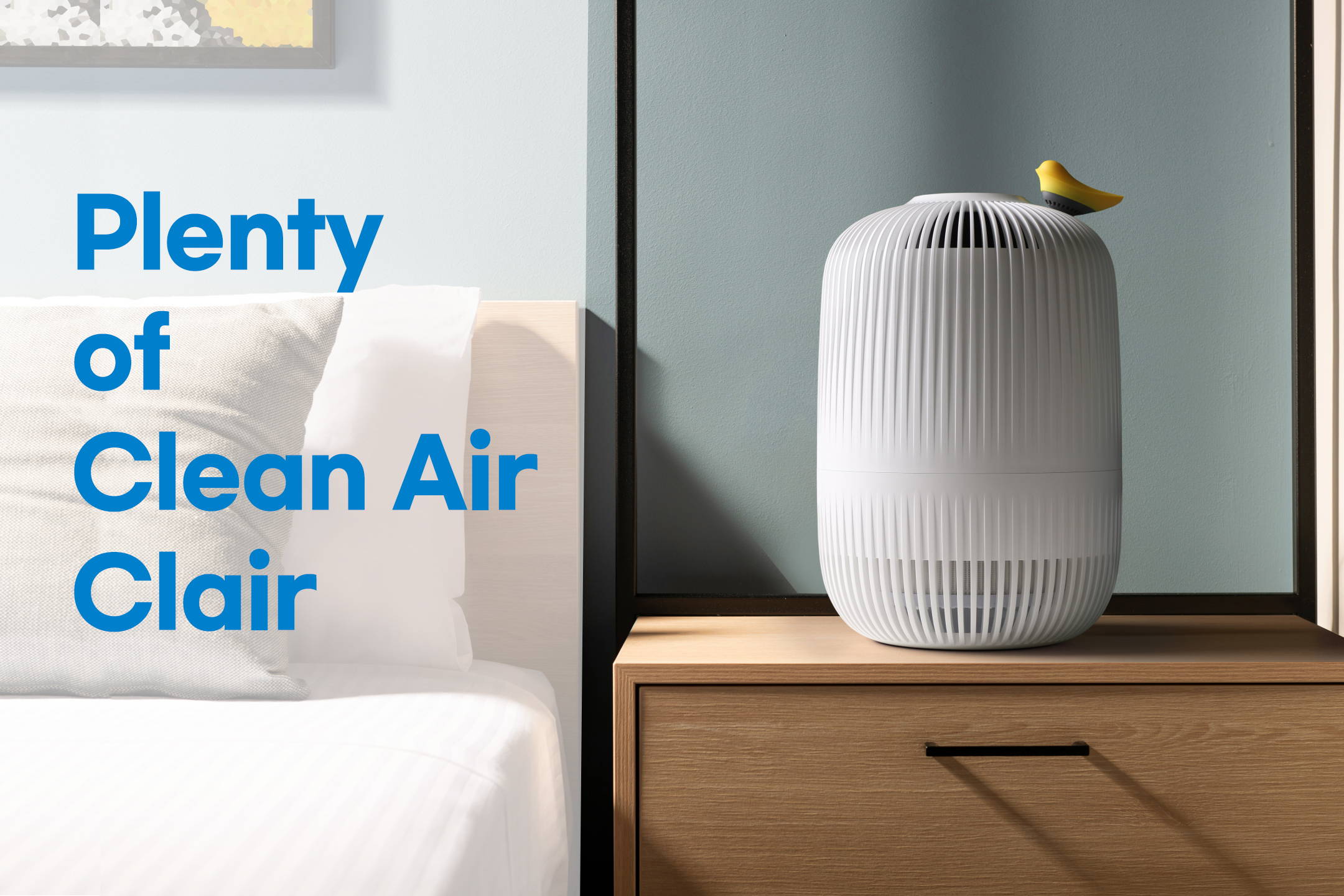 • How many hours do you spend in your bedroom in a day? Ever though about what you're breathing?
If you're a pet owner or having children, think about them. Don't they always make the dust fly?
• Fill your home with fresh and clean air overnight. It will definitely improve the morning and the day after. Especially if you have a sensitive nose or throat, clean air through the night may drastically change your morning beyond your expectation.
---
4-stage filtrations system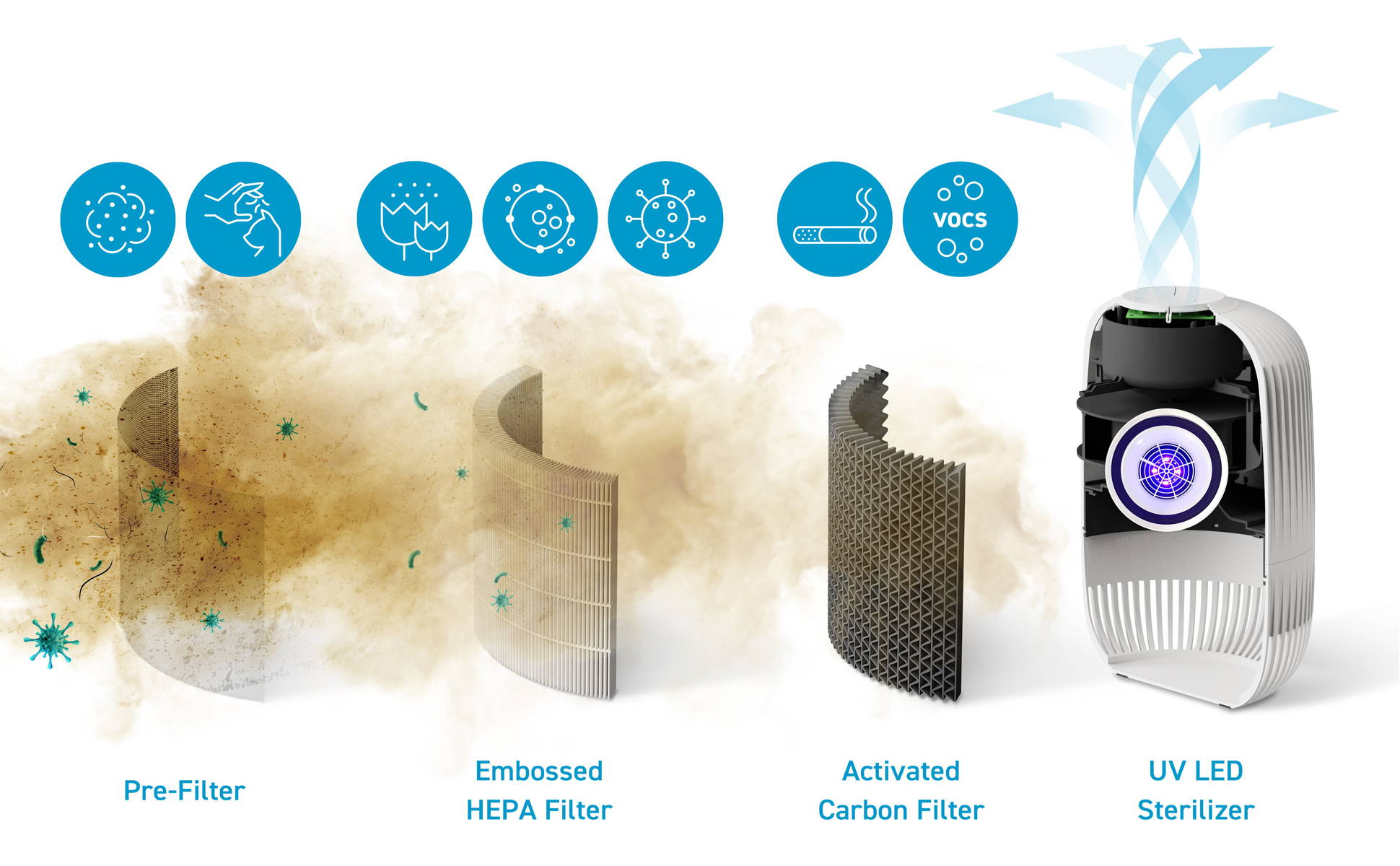 (1) The washable

PRE-FILTER

captures big pollutants like hair and large dust.
(2) The

CEPA

(Clair Embossed H13 True HEPA)

FILTER

seizes small airborne particles 0.1 microns in size such as wildfire smoke, dust, pollen, odor.
(3) The Activated

CARBON FILTER

removes odors from new house and furniture, pets, cigarette smoke, and cooking, Volatile Organic Compounds(VOCs).
(4)

UV-LED

(Sterilization) actively kills harmful trapped particles and increases filter performance.
---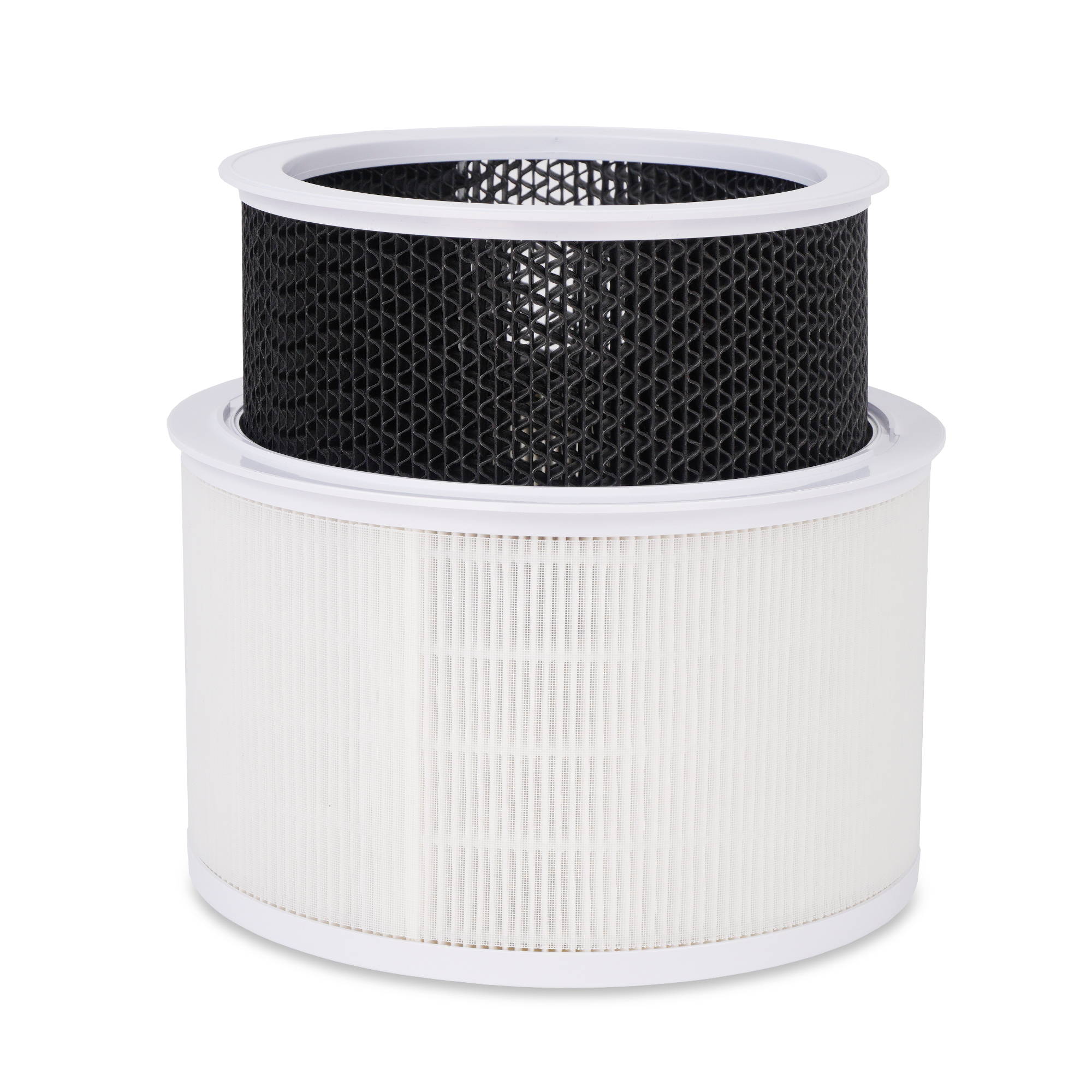 After years of Research & Development, testing, and optimization, we were able to create a filter that outperforms the market standard.Text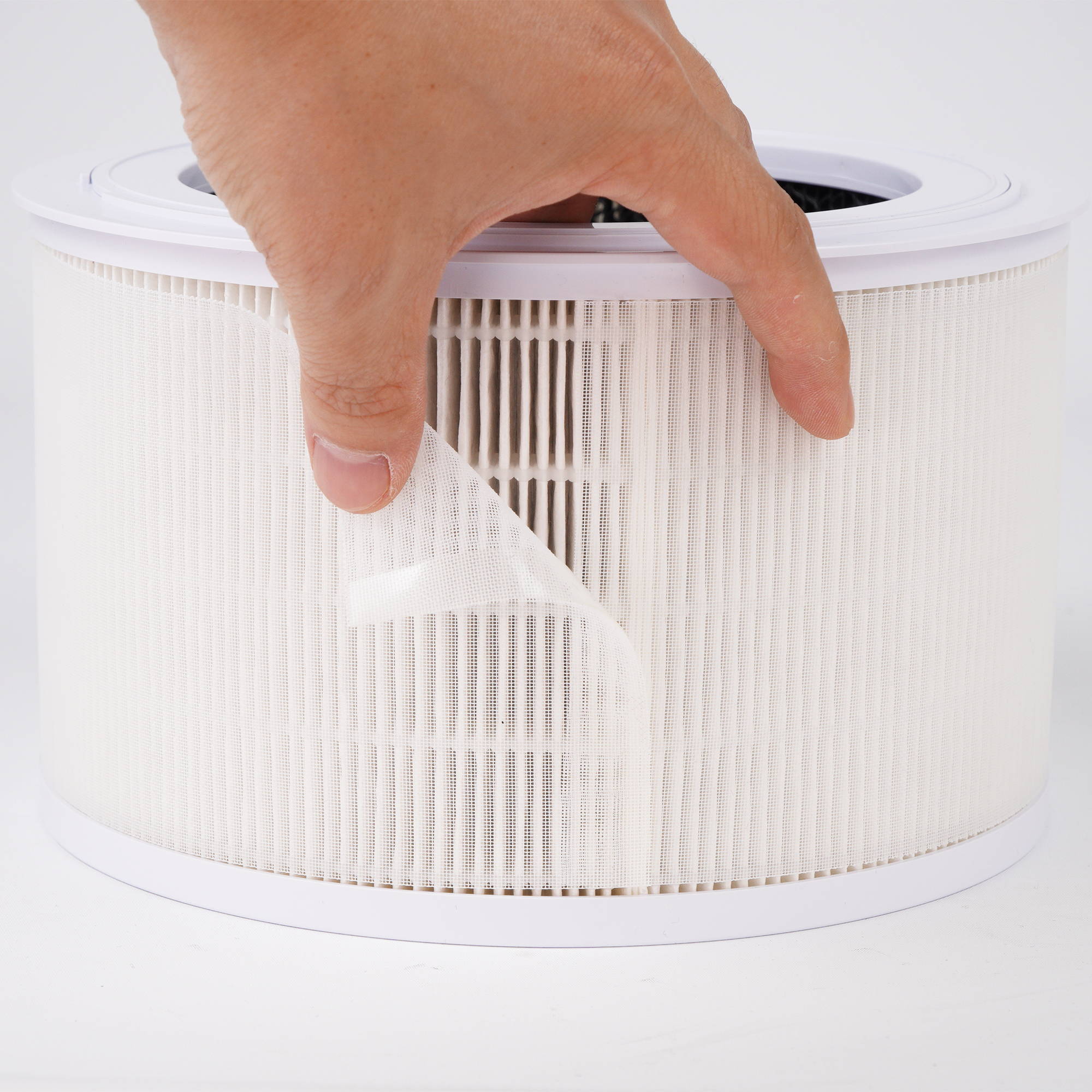 The Washable PRE-FILTER captures big pollutants like hair and large dusts.
*Please wash it separately from other filter assembly parts.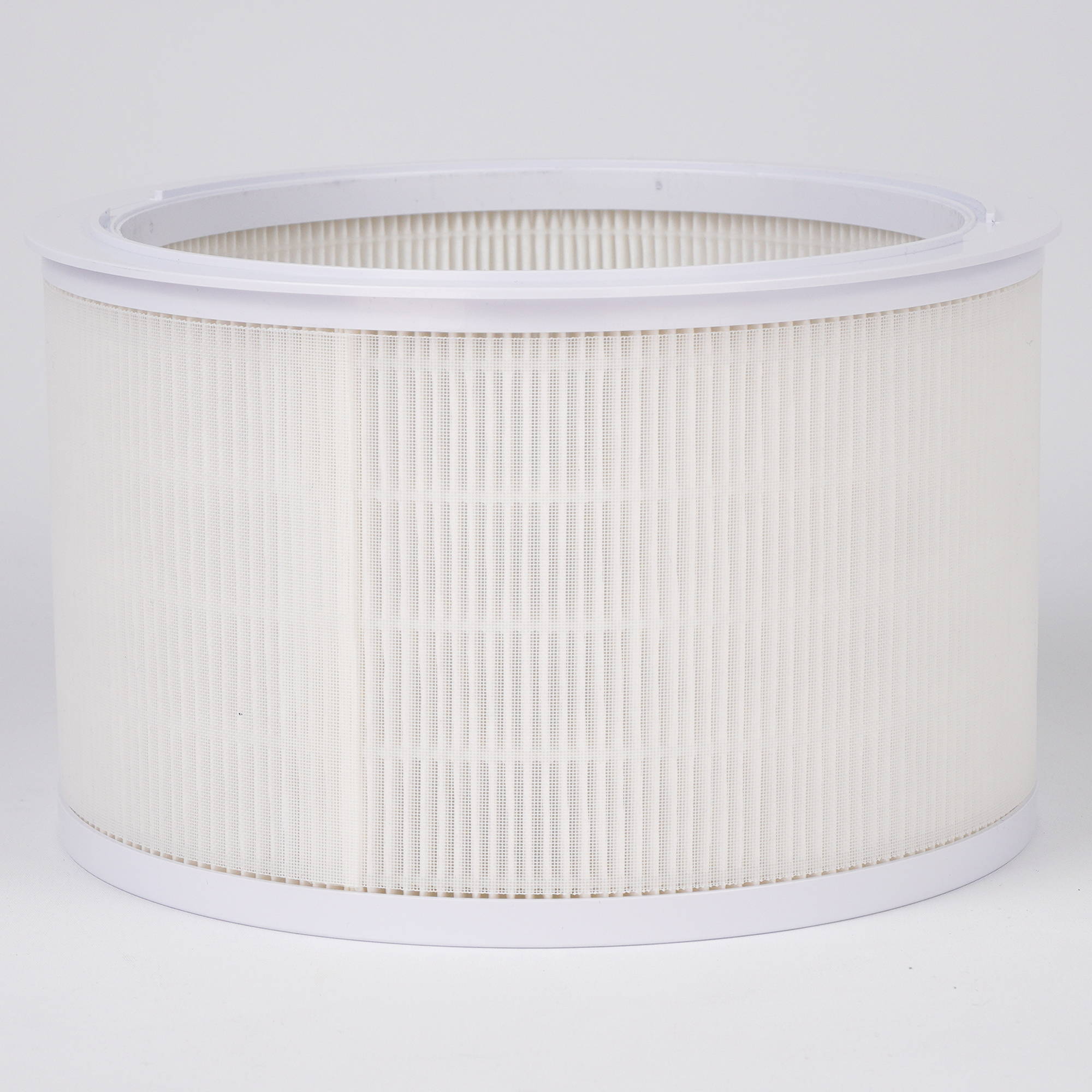 Emboss True13 HEPA technology outperforms traditional HEPA filter due to 13% more surface area for capturing pollutants.
*Please don't wash it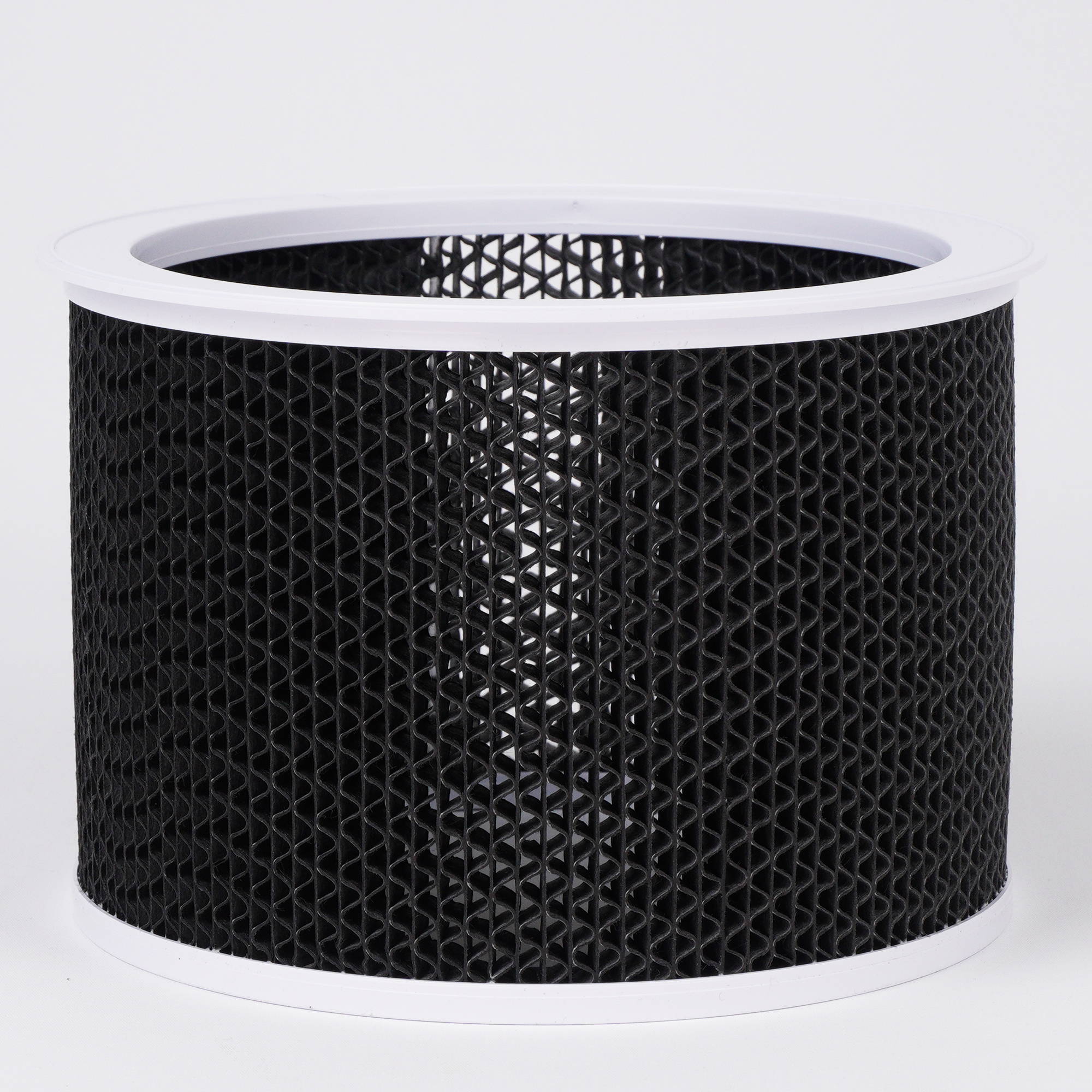 The Activated CARBON filter removes formaldehyde, the odors from pets, smoking and cooking.
*Please don't wash it
---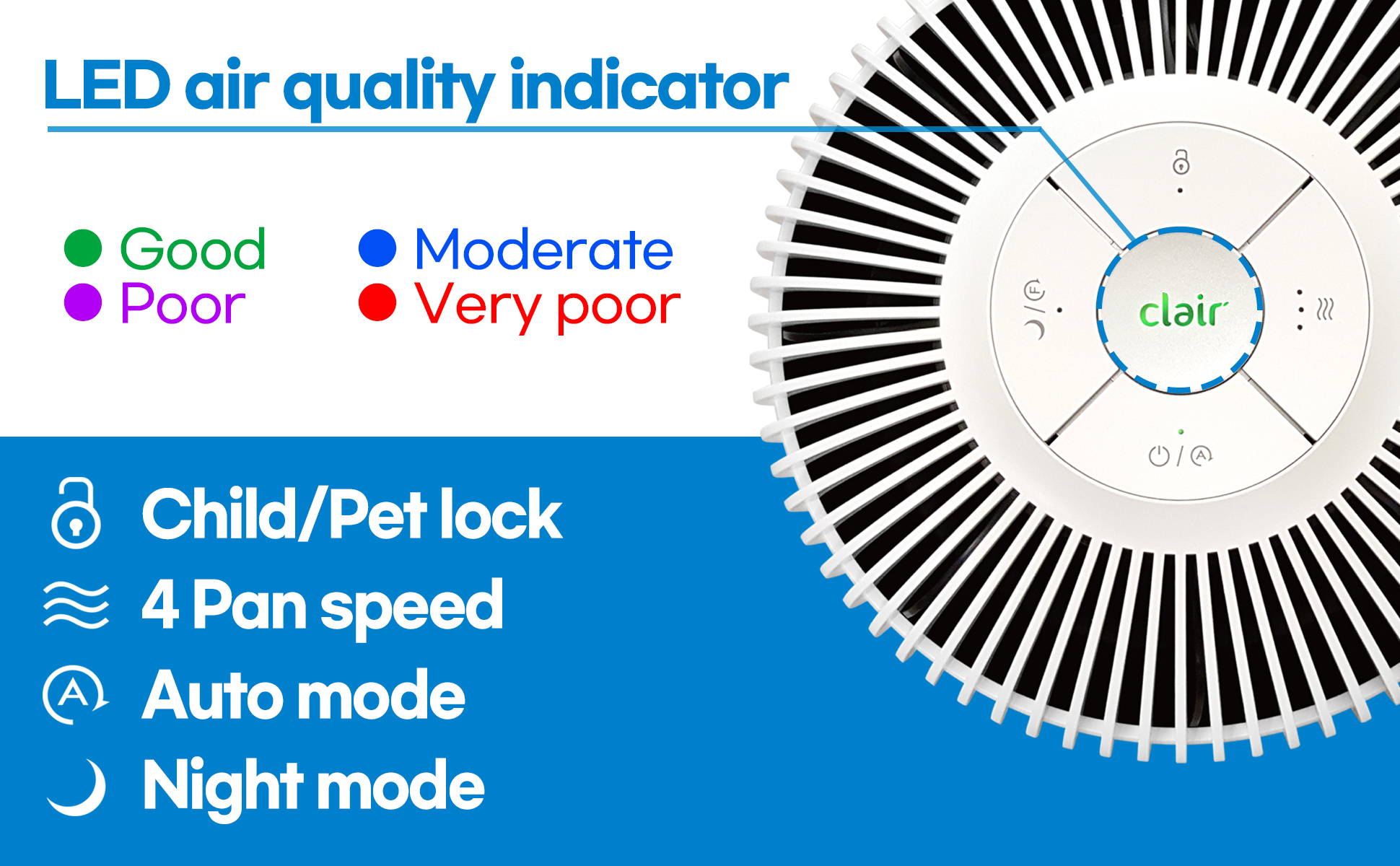 Hold over 3 seconds to lock & unlock the buttons to prevent accidental operation. No buttons other than the locking button are operable at the Child/Pet Lock mode.Hold over 3 seconds to lock & unlock the buttons to prevent accidental operation. No buttons other than the locking button are operable at the Child/Pet Lock mode.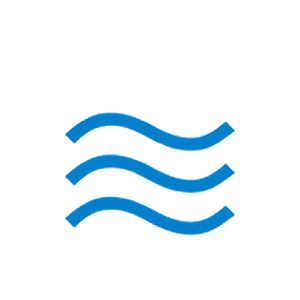 Choose between 4 air speeds.
Push and hold to activate Turbo-mode.Hold over 3 seconds to lock & unlock the buttons to prevent accidental operation. No buttons other than the locking button are operable at the Child/Pet Lock mode.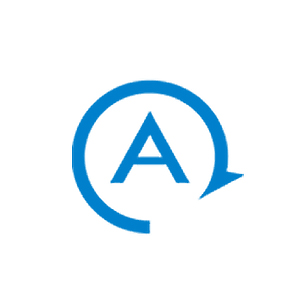 Real time sensor detects the air quality and automatically controls the fan speed. A short press of the power button will set it to auto mode from other fan speeds.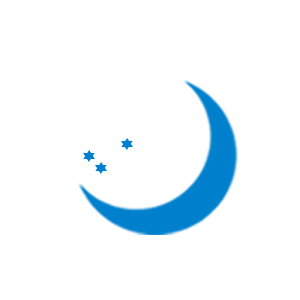 It uses quietest setting along with a dimmed display for comfortable and sound sleep. You also can change the fan speed on this mode.Text
---
Simply attach it to Clair's ventilation grill, or any place you can put it.

It cleans away odors and slowly releases a light, fresh black cherry scent for up to 30 day.
---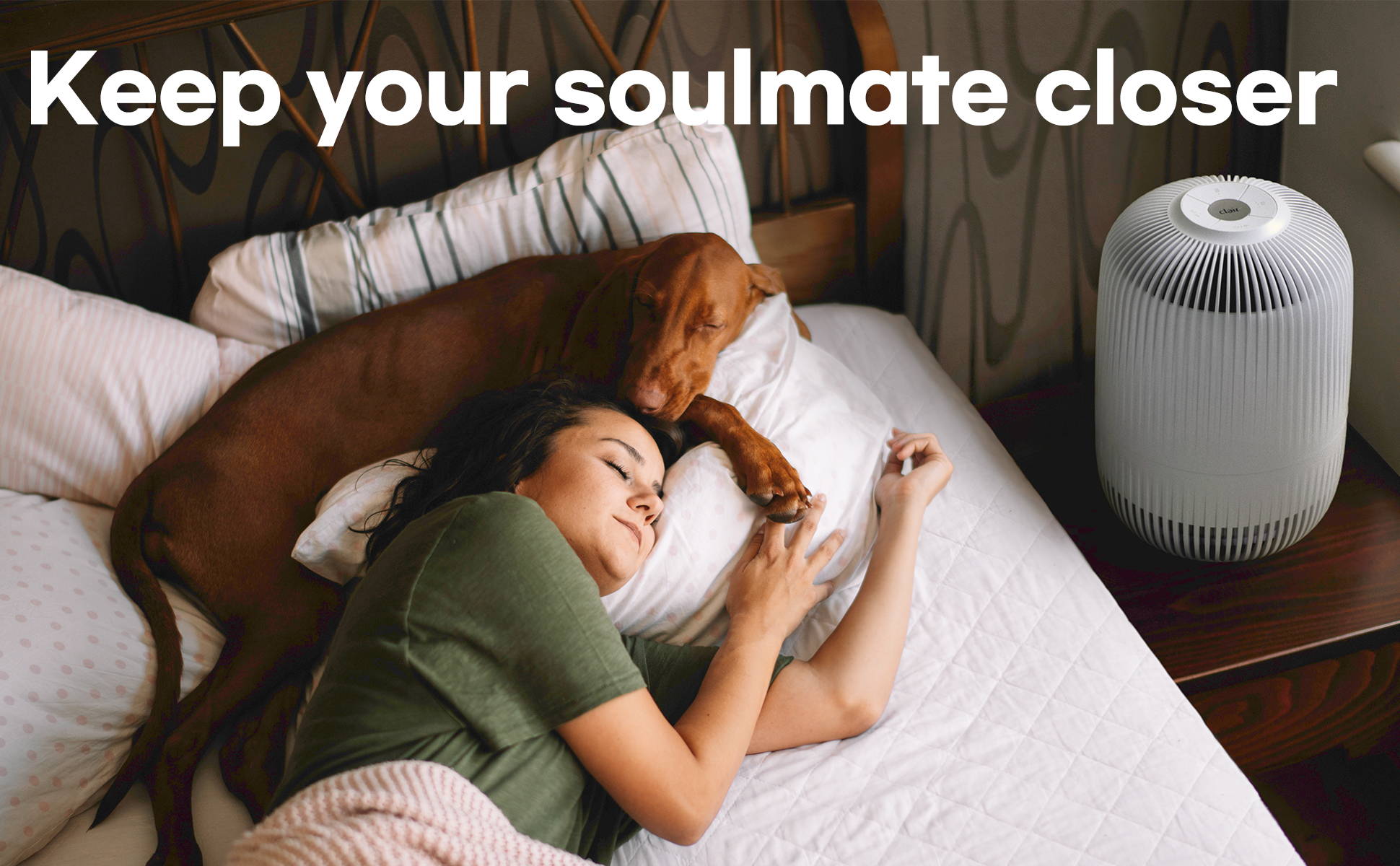 ---
What's in the box
• 1 x clair K2 Air Purifier
• 1 x Filter Assemply(Pre-installed)
• 1 x Power Adapter
Customer Reviews
10/20/2021
Angelina B.

United States
LOVE LOVE LOVE
This is the best air purifier I've ever used. The air quality color indicator is a genius idea! I had no idea if my previous air purifiers were improving anything. I noticed after the first use, within 20 mins my entire master bedroom smelled fantastic and my allergies have improved TREMENDOUSLY. My chronic fatigue has finally gone into remission. I am so thankful I found this product and will definitely order again for holiday gifts !!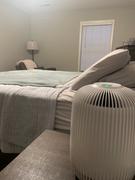 09/04/2021
Marcia W.

United States
Best air purifier
This is my second time to buy air purifier! First of all,I am Nara fans from New York! Secondly I was using this product at the beginning of pandemic period! It is very useful machine! I am highly recommended to buy air purifier from Clair! K2 Air Purifier with Embossed H13 True HEPA Filter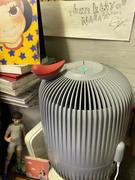 09/03/2021
Jake B.

United States
That's great
It has located in the kitchen and living room after I bought it. My wife has been satisfying and we can feel like indoor air is being fresh. Also, it has very special design. It's like not electric product but a good interior item. I like it.
09/02/2021
Mindy

United States
Super stylish and works well
Love how cute this air purifier is. Been struggling to find one that doesn't look like an eye sore in the room. I plan on buying more units for my room since my room is really large (400sqft) and one unit isn't enough. Plus it's recommended to have multiple units of any air purifier for rooms larger than 150-200sqft. I noticed it does vibrate/wobble when on low and is a bit concerning, but I keep it at medium all the time as high is a bit too noisy for my liking. On auto, it does take a bit for it to analyze the air, but it's good to when away from the room for long periods. I tested the auto feature by spraying disinfectant near/at it since I do use a lot of disinfectant sprays on items in the room. I prefer just putting it on high instead when cleaning instead of waiting for it to kick to high itself. The main A/C vent is in the hallway outside my room door and it's much louder than the purifier, and sometimes I have a robovac running... So there is a lot of noise pollution which is why I opt to keep the air purifier at medium. : ) but I don't notice the air purifier anymore and it has become nice white noise at night. I used to sneeze often (summer allergies and dust),and I've sneezed a lot less since running the air purifier 24/7. Overall, I think this unit works well! I wish the blush and red color was available from the America website.